Apart from being a regular heavyweight champion in the smartphone battles, Samsung also has a very strong foot in the TV or Smart TV world as well as other interesting areas.
For your information, Samsung Electronics is the #1 best TV manufacturer and brand in the world. In fact, Samsung is a TV brand you've almost certainly already heard of or currently using, given its position as the biggest seller of TVs worldwide.
This makes it a norm to see a Samsung TV in almost every home. 🙂
Have you ever stopped to wonder what's all the hypes and talks about "smart TVs"? Or wondering the more if the TV you currently own is a smart TV?
Well here's the simplest answer.
What's a Smart TV and what does a smart TV really have over regular Television?
A smart TV is a television that can connect to the internet without the need for a set-top box or streaming device. It offers a range of online features, such as on-demand content and VOD services from apps like BBC iPlayer, Netflix, Amazon Prime Video, YouTube plus music streaming services like Spotify, and even various games and sports content to enjoy.
A smart TV allows you to watch paid cable and satellite broadcasting that used to only be available with a set-top box. All you just need is to install the app that cable or satellite broadcasting company provides. Unlike our regular TVs, smart TVs runs on an operating system and comes with its own app service.
Now that you know everything about your Samsung Smart TV, let's dive into the Samsung Smart TV Software update discussions.
How to Update Samsung Smart TV Software
Just like updating your Samsung Galaxy phone's software, the Samsung Smart TV software update process isn't a hard process.
How to Update Samsung Smart TV Software
Total Time: 5 minutes
Press the Home button on your Remote.
On your remote, press the Home button

Using the directional pad on your One Remote, navigate to and select Settings
Navigate to and select Support.
Select Software Update.
Select Update Now.
Please wait while the TV checks for any available updates.
To finish, select OK.
And that's how easy it's to update your Samsung TV automatically.
But what if you want to update the TV Firmware through an external USB Drive?
How to Update TV Firmware Through External USB Drive
You might have asked yourself, how do I update my Samsung Smart TV via USB drive? Well, it's as simple as ABC if you follow our tutorial.
To update your Samsung Smart TV via a USB or external drive, here's what to do.
To download the latest software updates, visit the Samsung Download Center. You can either select your Product type and then search for your TV, or select Enter Model Number to access the support page for your specific TV model.
On the Support page, locate the firmware file for your TV under Downloads. If you find multiple firmware versions, install the newest version. Select Download next to the firmware version to download the compressed file.
When the file has finished downloading, locate it and then unzip the file. There should be one folder inside.
Copy or Move the folder to a USB flash drive and do not place it inside any other folders. If you place the software folder inside a folder on the USB drive, the TV will not find it.
Connect the USB drive containing the software upgrade into a USB port on your TV.
Using your TV's remote, navigate to Settings, and select Support. Select Software Update, select Update Now, and then select Yes.
Your TV will search the USB drive for update files. Follow the on-screen instructions to install the updated software. Updates usually take a few minutes; please do not turn off the TV until the update is complete. When the update is finished, the TV will restart automatically.
FAQs on Samsung Smart TVs and software updates
How do I check the software or firmware version on my Samsung Smart TV?
1. Press the Menu Button on the remote control and scroll down to Support option and select it. On the right-hand side select Software Update
2. On the right-hand side you will see an option Software update, just highlight it using the arrow keys and DO NOT Press OK / ENTER Button. We just need to highlight it without selecting it.
4. Now while the Software Update option is highlighted press the INFO button on the Remote Control.
5. Once the Info button on the Remote Control is pressed, it will open up the Firmware version.
Alternatively,
1. Press the Menu Button on the remote control and select the Support option.
2. Scroll to the right using the arrow keys and select Contact Samsung.
3. Once Contact Samsung is selected, it will open up the information in a seperate window
You will now see the Firmware / Software information of your Samsung Smart TV on the right-hand side.
How do I reboot my Samsung Smart TV?
To reboot or soft reset your Samsung smart TV, here's what to do.
1. Press and hold the Power button on your remote control and wait a couple of seconds.
2. You can now hold down the Power rocker again to switch the TV on.
Thats a soft reset or reboot process.
How to factory reset my Samsung smart TV?
To restore your Samsung TV to factory default settings;
For new series ( K, M, N and R series )
1. Press the Home button on the TV remote control and then select Settings.
2. Select Support.
3. Select Self Diagnosis.
4. Select Reset, enter your TV PIN (0000 is the default), and then select Reset.
5. Select Yes using the navigation buttons on the remote, and then press Enter.
Old Series( E, F, H, and J )
1. Press the MENU button on your remote.
2. Select Support.
3. Select Self Diagnosis.
4. Select Reset .
5. Enter your TV PIN .
6. The Factory reset screen will appear displaying a warning message. Select Yes using the navigation buttons on the remote, and then press Enter.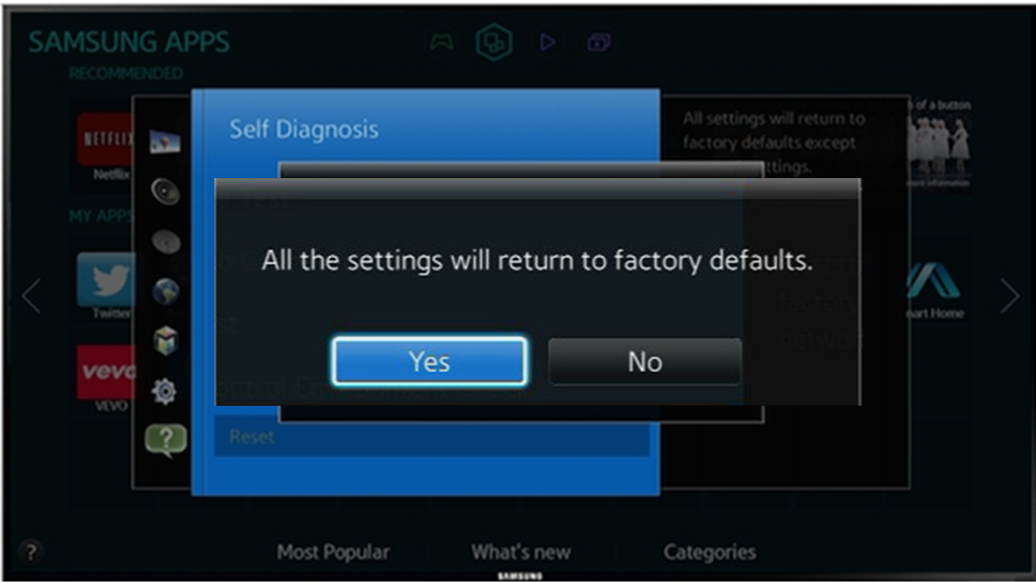 How do I update the apps on a Samsung Smart Television?
Navigate to Update apps and select it.
Click on Select all
Navigate to the app that requires updating, press and hold the Enter key until the Sub Menu appears.
Navigate to Update Apps and select.
Click on Select All.
Navigate to Update and select.
Why should I update my Samsung Smart TV?
Like every good electronic device with software running on it, Your Samsung TV will receive firmware updates, otherwise known as software, to add new features or fix bugs in previous software versions.
How to keep your Samsung Smart TV updated
Keeping your Samsung TV updated will make you get the most out of your Samsung TV as software updates will optimize performance, add new features, fix bugs, and more.
To make sure your Samsung Smart TV stays updated, here's what to do.
1. Turn on your TV, then press the Menu button on your remote.
2. Select Support > Software Update
3. Select Auto Update and make sure it's turned ON.
This will keep your Samsung TV always updated to the most recent software version automatically.
What do I need before I get a Samsung smart TV?
To get the most of a smart TV, you need a reasonably speedy internet connection. On-demand shows and movies are streamed using your internet connection, so the stronger your speed, the smoother your viewing experience will be.
How do I connect a Samsung smart TV to the internet?
There are two main ways to connect your smart TV to the internet; wirelessly or with an ethernet cable.
All Smart TVs have built-in WiFi and you should be able to connect to your home wireless network during the setup of your TV or through network settings.
Alternatively, you can use a wired connection and connect your router to your TV via an ethernet cable. The plus side of this is that it tends to be more stable than a WiFi connection.
Can I connect my Samsung smart TV to my mobile phone or tablet?
Yes, it's called remote access and many smart TVs as well can connect to your smartphone, tablet or wireless home cinema system.